Which Nissan Armada has Captain's Chairs?
The 2022 Nissan Armada has a top-of-the-line interior, great commander's seat and seating space, and an easy-to-use infotainment system. It seats up to eight individuals in its standard design, with certain trims offering captain's chairs that lessen the capacity to seven. The first two rows offer a large amount of room for its passengers.
Cloth seating is the standard in the SUV, as is a 10-way power-flexible driver's seat, and an eight-way power-customizable passenger seat. Available to add on include both synthetic or real leather seating, heated and ventilated front seats, driver's seat memory settings, heated second row seats, and a heated and leather-wrapped steering wheel.
There are two sets of LATCH connectors for the second row seats to place a children's car seat, a tie anchor for the second row middle seat seat (if the model includes one), and a 33%-line tie anchor.
List Nissan Armada Trim and Year Models That Have Captain' Chairs
The Nissan Armada has a ton of passenger space, as well as cargo space. Whether you are taking a weekend trip or moving your things to a new home, the 2022 Armada has room for everybody and everything!
Some individuals have been curious as to if 2022 Nissan Armada has third row seating, and the response to that question is yes! It is additionally loaded with incredible entertainment features to keep every one of its passengers involved. There are not a ton of differences from the previous year's Armada model.
With a standard third row of seating, the 2022 Nissan Armada can hold up to eight individuals. It has an extremely comfortable interior loaded with many highlights, including leather seating. With its accessible second row captain's seats, passengers get more space and can get in and out of the third row a bit easier.
What Is A Captain's Chair?
Captain's chairs are the advanced contribution gradually advancing toward each driving SUV and MUV. When contrasted with ordinary bench seating, captain's chairs are made to fit a singular individual and proposition higher back help. Very much like you're sitting in an armchair at home, a captain's chair, by and large, has movable and even customizable armrests. It is more-so seated like a chair than bench seating.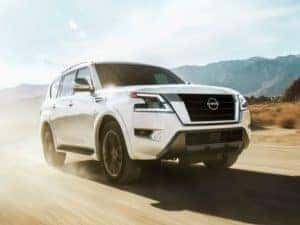 The Cons of Captain Seats
With captain's chairs, you can only seat two individuals in the second row at a time. Sometimes, captain's chairs can't be folded forward in this way, making getting in and out of the vehicle a bit difficult. This also means that it's harder to extend the cargo space of the vehicle without having to take the entire chair out. There is no standard armrest between captain's chairs, which means sometimes you lack a cupholder. Since captain's chairs are separated, the space between them sometimes feels wasted without a use.
What Are The Advantages Of Having Captain's Chairs?
Since seats are exclusively designed for a single passenger, commander seats will generally offer better lumbar support. The most common advantage of a captain's chair is superior to that of a bench seat is that passengers don't need to squeeze together to fit into the car. Every person has their own designated spot. These chairs can also be leaned back to fit the liking of each passenger. Not only that, but captain's seats look more luxurious than regular bench seats. They also provide a little bit more space for the third-row passengers, since they can move easily.
The armrest introduced on the commander seats could add much more comfort for passengers. Unlike the bench seats in a regular vehicle, captain's chairs offer comfort for your hand to incline toward the armrest without hanging. The hearts could likewise be changed into a reclined position that is more comfortable for every passenger.
Third, commander seats are more reasonable for all ages. Assuming you drive your child around, you don't have to stress since you have more space in the vehicle. Captain's chairs are also a bit more secure, which gives many parents comfort in driving their children around. Because the captain's chairs can move, the roomy interior would likewise be helpful for the older children since you can adjust the amount of legroom for the passengers. With more space, they will be more comfortable on longer drives than they would in an immobile bench seat.
Visit McNeill Nissan today!
Are you looking for a new or used Nissan Armada near the Wilkesboro, North Carolina area? McNeill Nissan can help! With our extensive inventory, you are guaranteed to find something that suits both your budget and your lifestyle. Our Sales Experts are here to walk you through our transparent buying process and answer any questions you may have regarding our vehicles. Fill out the form below to contact us or stop by our dealership at your earliest convenience to test drive any of our available cars. We look forward to seeing you soon and helping you find your next perfect vehicle.