July 4th 2021 Nissan Sales Event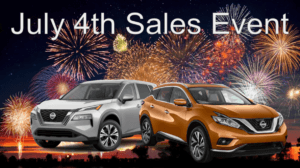 Our upcoming July 4th, 2021 Nissan Sales Event at McNeill Nissan promises to be fantastic! Do you wish to buy a brand new minivan, truck, SUV, or car? If so, the event of this sale is the best place you can the model you are looking for at a discounted price. Don't just celebrate this year's July 4th holiday like every other year.  Make this year special by taking home a brand new Nissan vehicle! Make sure to check out all the deals that will be going down on July 4th, 2021. Here are just a few models that we would love you to come test drive.
Nissan Rogue Deals
The Nissan Rogue is a compact SUV that has received a redesign in 2021, offering improved performance, modernized interior technology, and adding more attractive features. Over the years, this model has been one of the top-selling cars in the industry. Taking a deeper look at other features of the Nissan Rogue model will give you a beautiful picture of what will be up for grabs come July 4th.
Nissan Rogue Engine, Transmission, & Performance
The Nissan Rogue 2021 model is similar to its predecessors because it runs on a 2.5L 4-Cylinder engine. The only difference between this year's model and the previous ones is that its power has been ramped up to 181hp. In addition, it comes with a default front-wheel drive and continuous variable auto transmission. There is also an optional all-wheel drive if you want something with a little more power. All of the features have been dramatically improved in the 2021 Nissan Rogue.
Nissan Rogue Fuel Economy
The fuel economy features of this vehicle are hard to compete with. When the Nissan Rogue is on front-wheels, it delivers approximately 35 mpg for highway and 27 mpg for city. The models with all-wheel drive can boast 26 mpg for the city and 33 mpg for the highway.
The 3L engine promises even better fuel economy. Its front-wheel-drive delivers approximately 30 mpg for the city and 37 mpg for the highway. The all-wheel-drive of this engine version promises 36 mpg for the highway.
The 2021 model of Nissan Rogue is one vehicle you would surely want to take home. The efficiency of this car is as stunning as its beauty. So, get ready for the July 4th Nissan Sales Event and make the most of it.
Nissan Murano Deals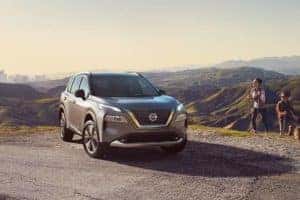 Have you wondered why the Nissan Murano has been a talking point recently among drivers with classic cars? This car deserves all the attention it is currently getting with a bold styling on its exterior and a soft-driving chassis. The July 4th, 2021 Nissan Sales Event will showcase this car and give it away on the platform of incredible deals. If you have been looking at Nissan Murano models, now is the time to take one out for a test drive to make sure that it is the vehicle that you have always wanted. Here are some distinct features that set the Nissan Murano apart from others in the market.
Nissan Murano Engine, Performance, and Transmission
Driving a Nissan Murano is always a pleasure because of its Continuous Variable Auto Transmission feature. With CVT, you can be sure of an efficient and simple power delivery system that provides for superior fuel economy compared to the usual transmission system. In addition, this upgrade also makes shifting look like a piece of cake. The front-wheel-drive and all-wheel-drive models are all equipped with CVT for an enhanced driving experience. It is very easy for gear to adjust itself to the current situation. That way, you don't notice any shocks, and the transition becomes seamless.
You may have gone on road trips several times, but you have no idea what it means to embark on one with a Nissan Murano. This vehicle is designed with a suspension that ensures comfort and gives you the coolest feeling on a road trip. In addition, the suspension is so efficient that it is capable of damping out the roughest of road patches, ultimately ensuring a smooth ride.
Finally, the steering is built to ensure a certain amount of stability on the highway. Driving just became better and more fun with the Nissan Murano 2021 model. That is why you must come to the July 4th, Nissan Sales Event at McNeill Nissan.
Nissan Altima Deals
This Nissan model has virtually everything you seek in a sedan. From its engine power, to comfort, to infotainment, the Nissan Altima has got your back. If you have been nursing the idea of having a car like this, the July 4th, Nissan Sales Event gives you an excellent chance to get your hands on one. Here are some of the amazing features that have put this vehicle in the spotlight.
Nissan Altima Unique Features
The Nissan Altima will always leapfrog other models because it possesses features that you are hard to compete with. For instance, the all-wheel-drive feature and its VC-Turbo engine are features that put it on a different scale. The benefits of the VC-Turbo engine are beyond what you can comprehend. With other desirable features such as its 8-way power driver seat, what else could you want?
Nissan Altima Engine, Performance, & Transmission
The Nissan Altima comes with a 2.5L 4-cylinder engine that delivers as much as 180hp when combined with CVT. It also has an optional turbocharged 2L 4-cylinder that can deliver up to 280hp when it's on premium fuel, along with CVT as well.
Nissan Altima Infotainment
The Nissan Altima has been designed to be compatible with Android Auto and Apple CarPlay allowing for you to have an easy connection to your music when you hop in the car. In addition, there are a host of other smart features to look forward to in this car. This July 4th weekend, make sure that you ask us about a test drive so that you can know everything about this amazing Nissan model.
McNeill Nissan July 4th Sales
If you are interested in any of the Nissan models that we have suggested, be sure to come into McNeill Nissan of Wilkesboro to find out more about the amazing deals we are offering to our customers. We suggest that you come to our lot for a test drive, as this will give you a good feeling of what it will be like to take home your new Nissan. Make sure to contact us today for more information about deals we are having this July 4th weekend.