2022 Nissan Pathfinder Release Info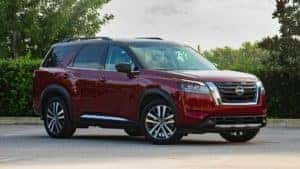 The 2022 Nissan Pathfinder is intended to be brand new, not just reconditioned. The Pathfinder will receive a slew of interior and exterior updates, as well as a new off-road variant. With its iconic V-Motion grille flanked by a set of slim headlamps upfront, it follows Nissan's new design language. The Pathfinder 2022 is completely redesigned from the ground up. With a strong front face, a broad stance, blister fenders, and a reduced front overhang, every inch of the vehicle were deliberately engineered to express a sense of strength and competence versus the previous design.
SPECS CHART
Engine……………………….3.5 Liter, V-6
Power………………284 hp @ 6400 rpm combined with 249 lb-ft of torque
Transmission……………9-speed automatic transmission with Intelligent 4×4
Fuel Economy…………….21 city/ 26 hwy (mpg)
Tank Size………………….18.5 gal
Passenger Capacity…….Up to 8
Towing Capacity……….6000 Pounds
Cargo Space Min………16.6 cubic feet
Last row folded………..45 cubic feet
Max………………….80.5 cubic feet
2022 Nissan Pathfinder Release Date
The all-new 2022 Nissan Pathfinder was already released to the general public on the 4th of February, 2021.
2022 Nissan Pathfinder Starting MSRP
The base 2022 Nissan Pathfinder with front-wheel drive starts at $34,560, including a $1,150 destination fee, and is available in four trim levels: S, SV, SL, and Platinum. The SV starts at $37,350 and includes adaptive cruise control, a power driver's seat, and blind-spot monitoring as standard equipment. The SL trim raises the price to $39,590. The most expensive Platinum trim is $47,340. The all-wheel-drive option adds $1,900 to the original cost of the vehicle.
As the combined mileage of the vehicle is 23 mpg, the SUV consumes 4.3 gallons of fuel per 100 miles. The average expenditure on fuel is $2050 annually (15,000 miles), whereas the cost for refilling the 18.5-gallon tank of this vehicle will be around $65.
A Nissan Pathfinder costs $542 per year to maintain on average. The cost of repairs and maintenance varies depending on the vehicle's age, mileage, location, and repair business. A Nissan Pathfinder oil change costs between $124 and $136 on average. Tire rotation, on the other hand, costs between $35 and $44. Labor costs are expected to range between $44 and $56, with parts costing $80. Other elements that contribute to Nissan's reliability include an average of 0.3 repair shop visits per year and a 13 percent chance of a serious repair. The repair and maintenance cost for the new and previous model remains almost the same.
2022 vs 2020 Nissan Pathfinder
The Nissan Pathfinder is a three-row midsize SUV that we've long admired for its roomy inside and exceptional hauling capabilities. However, outside of those features, the previous-generation Pathfinder struggled to stand out in a crowded field that included the Honda Pilot and Kia Telluride. Nissan has revamped the Pathfinder for the 2022 model year to increase interest.
The 2022 Pathfinder boasts a more muscular and upright appearance, a new nine-speed automatic transmission, retuned handling, increased interior storage, and new technology features than the 2020 Pathfinder (there is no 2021 model). Nissan also improved the suspension tuning for the Pathfinder for 2022, as compared to the ride quality of the previous model, in particular, which was a little rough.
In terms of power delivery, the new 2022 Nissan Pathfinder has the same strong engine as the 2020 Pathfinder, but it's paired with a nine-speed automatic transmission instead of the CVT. It's also faster than the 2020 Pathfinder, with a 0-60 time of fewer than ten seconds. The new 2022 Pathfinder will accelerate from a standstill to 60 mph in 6.7 seconds, compared to 7.4 seconds for the 2020 Pathfinder.
The new model also gives an incentive in terms of seating by providing 7+1 space for passengers. It links entertainment features like standard Apple CarPlay, which allows your compatible smartphone and your 2017 Pathfinder SUV to work together seamlessly. Last but not least, the new 2022 Pathfinder includes the EZ Flex Seating System with Latch and Glide and a fold-flat reclining bench seat in the third row that provides additional cargo space to enable driver passengers to settle in for the journey.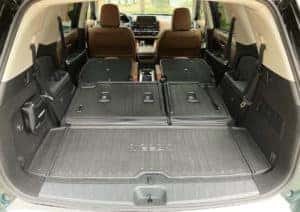 Pathfinder has matured significantly, particularly in terms of technology. It's more comfortable, quieter, and easier to drive than before.
Unique Specifications of the 2022 Pathfinder
Nissan's design team delved back the original Pathfinder SUV archives from the mid-1980s to find inspiration for the fifth-generation revamp of the three-row midsize SUV, which will skip the 2021 model year entirely. The ultimate result is a significant stylistic change from the outgoing model's soft jellybean form, which prioritized comfort and space over all else.
New Dimensions and Exterior
The outer bodywork of the 2022 Nissan Pathfinder has been completely redesigned, making it appear larger than its predecessor. The 2022 Pathfinder, on the other hand, is 1.5 inches shorter than the 2020 Pathfinder and offers 2.4 cubic feet less cargo room. These increased dimensions give the Pathfinder more sedan-like handling qualities, making it easier to navigate in traffic. The vehicle's rear end is cleaner and wider, with LED lighting that is flush and horizontally orientated. The Pathfinder's name is spelled out in all caps in the center of the three-dimensional tailgate, in contrast to the 2020 model, which had its name hidden in the bottom left. The V-motion grille, which is still distinct from the rest of the lineup, is what distinguishes it from the competition. It's an improved version of Nissan's signature grille, and it's keeping up with the expectations of the auto market.
Upgraded Interior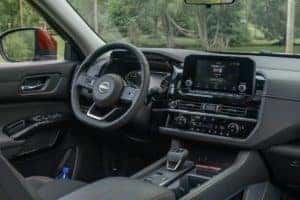 The interior of the new Pathfinder has taken on an adventurous theme, mirroring its blocky external appearance. The available digital instrument panel and huge central touchscreen add a touch of modernity, while the massive, wide panels accentuate the cabin's spaciousness. The classic console-mounted shifter has been phased out in favor of a more compact electronic version that takes up less space. A redesigned steering wheel with a thin outer rim and flat bottom completes the dash improvement. One innovation for the 2022 model is the second-row captain's seats. This design includes a detachable center console for easier access to the third row, which is further enhanced by a one-touch button that folds and slides the second row. The previous Pathfinder's third-row access was adequate, and it's somewhat better now thanks to increased headroom.
New Technology Features
All Pathfinders in 2022 will be outfitted with a comprehensive set of technological characteristics. A 7-inch digital instrument cluster and an 8-inch touchscreen with Apple CarPlay and Android Auto smartphone connection are included as standard. ProPilot Assist, which includes adaptive cruise control and lane-centering assist, is available on the Pathfinder SV. The feature reduces driver stress and works well in other Nissan vehicles, so we expect the Pathfinder to follow suit. ProPilot Assist is bolstered even more in the SL trim with a tool called Navi-link, which uses mapping to modify the cruise control speed based on road conditions. Upper trims will include a 12.3-inch digital instrument cluster and an improved 9-inch touchscreen, though we won't know which levels they'll be available until later. Wireless Apple CarPlay, a wireless charging pad, a Wi-Fi hotspot, a surround-view monitor, and a head-up display are among the other optional amenities.
On the Road
The new nine-speed automatic transmission improves fuel economy and off-road capability. It has aided Pathfinder in becoming a more capable towing vehicle. The base front-wheel drivetrain can be modified to an "intelligent 4WD" system with direct coupling, which functions more like an all-wheel-drive system designed for pavement and equipped to find traction in bad weather. The driveline incorporates a seven-mode terrain selector that allows drivers to choose from Snow, Sand, Mud/Rut, and Tow in addition to Standard, Sport, and Eco.
Added Safety
The Nissan Safety Shield 360 set of driver-assist technology comes standard on the SUV. When you walk into the cabin of a new Pathfinder, the following safety features will give you peace of mind behind the wheel:
Lane Departure Warning
Blind Spot Warning
Rear Automatic Braking
High Beam Assist
Automatic Emergency Braking with Pedestrian Detection
Rear Cross-Traffic Alert
The 2022 Pathfinder also offers Intelligent Blind Spot Intervention, Intelligent Lane Intervention, and Intelligent Forward Collision Warning, in addition to Nissan Safety Shield. These systems use numerous cameras and radar to scan the road and notify you of potential risks.
The sleek appearance of the 2022 Pathfinder contrasts sharply with the bulbous styling of its predecessor. The cabin appears upmarket and modern, and the Nissan engineers made thoughtful adjustments to the chassis, motor, and drive modes that make this three-row that much more capable. It seems luxurious in Platinum trim, a vast cry from the plasticky Nissan fare of just a few years ago. When you combine those new features with everything you love about a three-row crossover – comfort, space, and livability – the new Pathfinder has emerged as a top contender in a crowded segment.
Visit McNeill Nissan of Wilkesboro
If you are interested in the newly released 2022 Nissan Pathfinder, let us help you at McNeill Nissan of Wilkesboro. We can get you into a 2022 Pathfinder so that you can take a closer look at all of the features available to its drivers and passengers. If you would like to learn more about this new model, please fill out the contact form below with any questions you might have.