2022 Nissan Frontier vs. 2022 Toyota Tacoma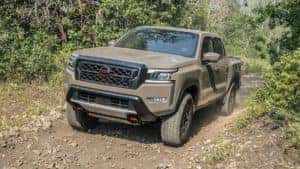 Choosing between two trusted car brands with similar vehicles can be a difficult choice. At first glance, they may both have everything you're looking for and more. It ultimately comes down to deciding which details align more closely with the needs of your lifestyle.
Nissan and Toyota both offer a few different truck options, with the Frontier and Tacoma being their compact pickup options. These trucks directly compete with each other in the car market, often making a difficult decision for drivers.
The two trucks definitely have some differences that set them apart from each other, but what are those differences? We will highlight those differences for you, as well as the similarities.
Trim Levels
Both the Nissan Frontier and Toyota Tacoma have multiple trim levels for their pickups. The Tacoma has five different trims, while the Frontier offers six trims separated by the two cab sizes (Crew and King).
Nissan Frontier:
King Cab S

King Cab SV

Crew Cab S

Crew Cab SV

Crew Cab Long Bed SV

Crew Cab PRO-X
Toyota Tacoma:
SR

SR5

TRD Sport

TRD Off-Road

Limited



Seating Capacity
Both pickup trucks have seating available for up to five passengers, but not on each model – it entirely depends on which cab size you pick.
Nissan Frontier
The King Cab offers seating for four individuals – this option also allows the vehicle to have rear-swinging pillarless rear doors for more cargo. The Crew Cab allows for seating up to five passengers with a bench seat in the second row.
Toyota Tacoma
The Access Cab, similar to the Frontier, has seating for four passengers with the small rear-swinging door, rather than a full door. Their Double Cab offers more seating for five instead – these vehicles are four-door.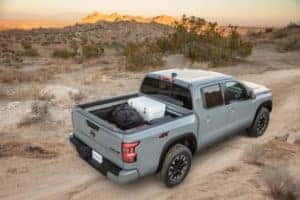 Amenities
Today's vehicles load themselves full of wonderful amenities to maximize comfort for every passenger. Some of the most common amenities include leather seating, heated seats, and sunroofs. The trims that offer these amenities for both vehicles are as follows:
Leather Seating
Leather seating makes these trim levels feel extra luxurious:

Nissan Frontier:
Crew Cab 4×2 SV

Crew Cab 4×2 PRO-X

Crew Cab 4×4 SV

Crew Cab 4×4 PRO-X
Toyota Tacoma:
TRD Sport Double Cab

TRD Off Road Double Cab

Limited Double Cab

TRD Pro Double Cab



Heated Front Seats
Keep yourself warm in the cold months with heated front seats on these select trims:

Nissan Frontier:
King Cab 4×2 SV

Crew Cab 4×2 SV

King Cab 4×4 SV

Crew Cab 4×2 PRO-X

Crew Cab 4×4 SV

Crew Cab 4×4 PRO-4X
Toyota Tacoma:
TRD Sport Access Cab

TRD Sport Double Cab

TRD Off Road Access Cab

TRD Off Road Double Cab

Limited Double Cab

TRD Pro Double Cab



Sunroof
Sunroofs belong on more than just sedans and SUVs! Both of these pickups offer sunroofs on select trim levels.

Nissan Frontier
Crew Cab 4×2 SV

Crew Cab 4×2 PRO-X

Crew Cab 4×4 SV

Crew Cab 4×4 PRO-4X
Toyota Tacoma
TRD Sport Double Cab

TRD Off Road Double Cab

Limited Double Cab

TRD Pro Double Cab
Technology
Technology's capabilities exponentially increase each year, so it only makes sense that the technological capabilities of our vehicles grow along with it.
Nissan Frontier
The Nissan Frontier offers a large 9-inch high-definition, high-resolution touchscreen infotainment system for its drivers. It's actually the largest available touchscreen in its class. It uses NissanConnect – which includes Nissan Door to Door Navigation – and has Wi-Fi hotspot availability, Apple CarPlay, and Android Auto. Not only that, but it offers a wireless charging pad, a 120-V outlet, and even USB-A/USB-C outlets for Apple products.
The Frontier uses Fender 10-speaker audio, which includes a dual subwoofer – passengers in this truck will never experience car audio this good in another vehicle.
Toyota Tacoma
The Tacoma offers a slightly smaller 7-inch touchscreen infotainment system. Like the Frontier, it offers Apple CarPlay, Android Auto, and Amazon Alexa capabilities. Additionally, with every new Tacoma, drivers get a free three-month subscription to SiriusXM radio. Toyota highlights their customizable 4.2 inch Multi-Informational Display that shows mpg, safety features, and the inclinometer.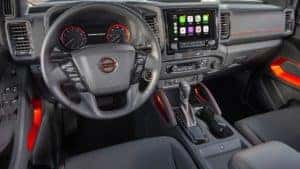 Performance
One of the biggest perks of owning a pickup truck is the powerful performance capabilities. This makes them great to use as work vehicles, but also great vehicles to bring on weekend trips to the lake or camping. With the proper equipment, a good pickup truck feels unstoppable.
Engine
The mightier the engine, the more power a vehicle has. This allows the car to do so much more, including accelerate faster and tow more.
The Nissan Frontier has a standard V6 engine and nine-speed automatic transmission across all of its trims. This gives the vehicle more power than its 4-cylinder competitors.
Toyota Tacoma
The Toyota Tacoma offers a standard 4-cylinder engine and six-speed automatic transmission, but some of its higher trims offer a V6 engine as well.
Towing
Towing capacity comes in handy when pulling things both for work and for weekend adventures.
Nissan Frontier
The Frontier has a towing capacity of 6,720 pounds when properly equipped. It can also haul up to 1,610 pounds.
Toyota Tacoma
The Toyota Tacoma can tow slightly more than the Frontier, with the ability to tow up to 6,800 pounds with proper equipment.
Fuel Economy
The bigger the engine typically means the worse the fuel economy, but how do these trucks stack up?
Nissan Frontier
The Frontier gets an estimated MPG of 18 city and 24 highway, as the car comes with that mightier V6 engine.
Toyota Tacoma
The Tacoma – when equipped with the base engine – gets an estimated MPG of up to 18 city and 22 highway. However, the Tacoma also offers the V6 engine as well, which typically gets lower gas mileage.
Pricing
Both the Frontier and the Tacoma have a starting MSRP around the same price. The Frontier starts at $27,840, while the Tacoma comes in slightly cheaper at $26,500. These prices are for the base trims, and do not include any extra amenities.
McNeill Nissan in Wilkesboro, NC
If you are in the Wilkesboro, North Carolina area and the Nissan Frontier sounds like a great fit for you, stop by McNeill Nissan today! We have multiple Frontiers available in different colors and trims, ready to be test driven and taken home today.
As a third and fourth generation car dealership, we take your customer experience very seriously and want to make sure everything moves as easily as possible. Contact us today using the form below or stop by the dealership and we would be happy to show you what Nissan Frontiers we have in stock, as well as any other vehicles you may be interested in. See you soon!